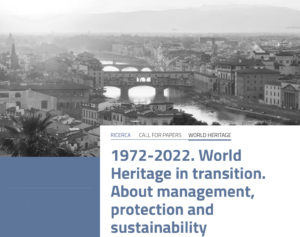 1972-2022. World Heritage in transition
International Conference – Florence, 18-19 November 2022
On the occasion of both the official celebrations of the 50th anniversary of the Convention, titled The Next 50 and held in Florence, as well as the 40th anniversary of the inscription of the Historic Centre of Florence on the UNESCO World Heritage List, the University of Florence and the Municipality of Florence are promoting two days of dialogue and discussion with the aim of involving scholars, professionals and decision-makers to reflect on the main themes of the Convention and its future development and implementation.
Don't miss today's deadline, send your abstract!