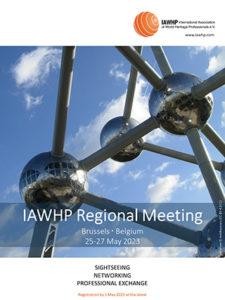 Dear members!
After the successful meetings in Berlin 2021 and Bonn 2022, It is our pleasure to invite you to join our yearly Members Meeting, which will happen this Summer in Brussels, Belgium.
Date: Thu 25 – Sat 27 May 2023
Topic: Art Nuveau and European Heritage of the 20th Century
We have planned visits to heritage sites, a guided tour in European Quarter and joint dinners. Please see the attached Programme (pdf).

We hope that you are interested. Make sure to register directly with the board via info@iawhp.com or members@iawhp.com.
Please consider that travel costs, boarding, accommodation and entrance fees to museums are to be covered by participants themselves. If you are interested to share a hotel room with another member, make sure to mention this in your registration and we will connect you. If you want to travel with Deutsche Bahn, make sure to book soon, there are still special prices available (Super Sparpreis Europa).
If you have any questions, do not hesitate to contact us.
Best regards
Rolf Schuett
Board Member, Vice Chair IAWHP eV